5 Tips to Enhance Your Client's Japan Experience
Since 2011, the number of Americans traveling to Japan has been steadily increasing every year. As this exotic country gains popularity, there is a great opportunity for you, the Travel Professional, to position independent vacations as the ultimate way to explore Japan. Even if you don't have a deep understanding of Japanese culture or geography, you can set yourself apart by offering a customized trip instead of an escorted coach tour. Here are 5 tips to help you craft the perfect itinerary:
Go Beyond the Golden Route
Tokyo and Kyoto are world class destinations topping many bucket lists for good reason. However, it's the smaller towns where you can get a better sense of traditional life and interact with locals. Kanazawa and Hiroshima are great examples of medium scale cities that offer history, natural beauty, and delectable regional cuisine. Don't forget that the famed Shinkansen bullet trains make travel throughout the country very easy.
Private Guide, Public Transportation
There is no better way to gain insight and learn about your surroundings than having a private guide. For example, your guide can explain the nuances of how Shintoism and Buddhism are incorporated into daily life; how to differentiate between a shrine (Shinto) and a temple (Buddhist); and how to properly purify yourself when visiting a sacred site. A great guide is always a standout memory long after your clients come home, because in the end, it's all about the people we meet along the way.
In Japan, your guide will typically give you a tour by public transportation. Not only is this practical advice for one to avoid traffic and learn to explore the region efficiently, but it's a great way to see everyday people in their daily routine. Just be sure to keep your tickets readily available, because you'll need them to get in and out of the turnstiles.
Include a Traditional Element
One of the most beautiful elements visitors encounter are the cultural traditions that are still enjoyed in Japan's modern age. Experience a traditional tea ceremony, watch a kabuki performance, see a sumo wrestling show, dress in a kimono, and stay in a ryokan (inn) where you'll sleep on a futon on top of a tatami mat. By the way, sleeping on the floor is more comfortable than you'd think – it's just the getting up that might take one a bit longer to get out of bed.
Escape into Nature
Whether it's a garden or a day trip to the coast, be sure to schedule time outside. No matter the season, every tree, rock, and mountain appear perfectly balanced. Throughout the country there's always a lovely landscape to admire. Go for a walk in the Bamboo Forest in Kyoto, hike through Hakone National Park, and meander through the Kenrokuen Garden in Kanazawa – the most beautiful in the country.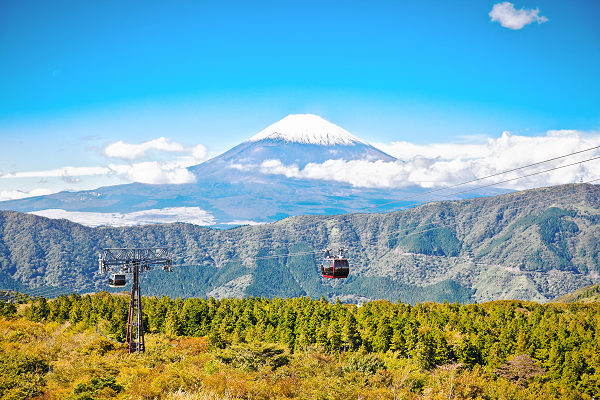 Make the Most out of Each Meal
Discovering new regional cuisines is one of the most enjoyable aspects of travel. Tokyo now has the honor of having the most Michelin stars in the world, followed by Paris, but a good dining experience can be found throughout the country. Watch Chef Eric Ripert's experience here.

Be prepared to enjoy the freshest in seasonal ingredients and an outstanding presentation of your meal (even at the airport). One way to really get familiar with Japanese dining is to make a meal in a local home or opt for a food walking tour with a guide. Both are very fun options for couples and families.

If you're looking for suggestions for an independent vacation, then consider our 13 night Japan Discovery Itinerary. You can further customize your client's experience to keep them happy and ready to book their next vacation!
Share your comments about your clients traveling to Japan – was it a customized itinerary? We'd love to hear from you!