Costa Rica: A Small Country with a lot to Offer
Known for its beautiful beaches, diverse wildlife, and friendly locals, Costa Rica offers the perfect introduction to Central America. While only occupying .03 percent of the earth's surface, Costa Rica is home to a whopping 6 percent of the world's biodiversity; this means Costa Rica is a destination chock full of amazing encounters with wildlife and nature. This small country is also ahead of the curve in terms of conservation: 25 percent of its land is protected, with 26 national parks – the highest percentage of protected land in the world.A trip to Costa Rica is a trip into nature – ripe with eco-adventures fit for every traveler. From relaxing beach stays, to adrenaline filled zip lining through cloud forest canopy, Costa Rica's vast national park system provides perfect opportunities to experience wildlife in a safe, sustainable way that is fun for everyone, from young honeymooners to expert naturalists.

Not only is Costa Rica one of the most beautiful countries in the world, it is one of the easiest to travel in. With a welcoming environment and widely spoken English, getting around Costa Rica isn't difficult; plus, if you are looking to pick up some Spanish, the slower pace and clear accent of Costa Rican Spanish makes this the ideal country to learn. On top of this, Costa Ricans (or Ticos, as they are called) tend to be experts in their country, and are very excited to show it to you. Embracing the laid-back philosophy of "Pura Vida" Costa Rica is the perfect place to relax, leave the world of fast-paced technology behind, and connect with the stunning natural environment.

Here are three of the most unmissable National Parks to take in on your next Costa Rican vacation: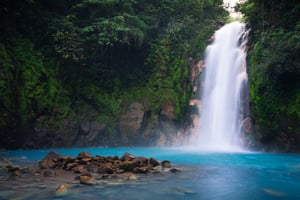 Tenorio Volcano National Park
Tenorio National Park, in an isolated portion of Northern Central Costa Rica, includes both cloud forest and rainforest habitats. This park offers many opportunities for hiking amidst wildlife, like colorful toucans and stealthy jaguars. But the showstopper here is the gorgeous Rio Celeste river. The bright turquoise blue waters of this unique river are a striking sight, and lead you to an azure blue waterfall with alluring natural hot springs.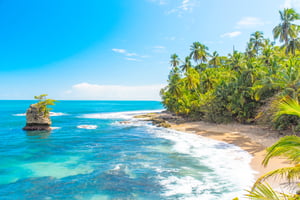 Tortuguero
This park on the Caribbean Coast is named for the sea turtles known to nest on its beaches from July to October. Lodges in the area will arrange nighttime tours to watch the turtles lay their eggs. Even when this spectacular phenomenon isn't taking place, the lush canals of Tortuguero are definitely worth a visit. Home to caiman, otters, capuchin and howler monkeys, and manatees, the calm and scenic waters provide an amazing environment to float along and spot wildlife.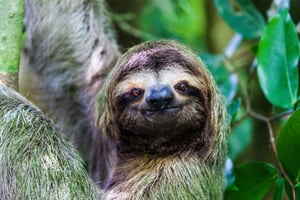 Manuel Antonio
Although it is the smallest National Park in Costa Rica, Manuel Antonio is also considered to be one of the best. And, only a 20 minute drive from Quepos airport, it is also one of the easiest to get to. With abundant tropical forests, beautiful beaches, well-maintained paths, and varied flora and fuana, this park is known as one of the most biodiverse locations in the world. Be on the lookout for endangered squirrel monkeys and two and three toed sloths; not to mention the 350 species of birds that reside here.