Skip The Traffic in Europe
With a population of 380 inhabitants per square kilometer and a total population of over 28 million, the conglomeration know as Benelux (Belgium, the Netherlands and Luxembourg) is the densest area in Europe. A not surprising result is that the major highway that connects Paris to Brussels to Amsterdam (with other cities like Antwerp and Rotterdam along the way) is the most traffic jam prone motorway in Europe.
There is, however, a great alternative to the tedious boredom of being stuck in traffic: Thalys, a sleek modern high speed train, (sometimes referred to by its color, 'the red train'). Thalys connects all of these cities, with an additional branch line that services Liege and Namur in Belgium and Cologne and Dusseldorf in Germany, in record time. Ideal driving time (when there is not a traffic problem) between Paris and Amsterdam, for example, is about 6 hours, whereas Thalys does the journey in 3 hours with up to 10 direct trains per day. Most poignantly, Thalys offers city center to city center connections with no need to deal with the hassles of airports.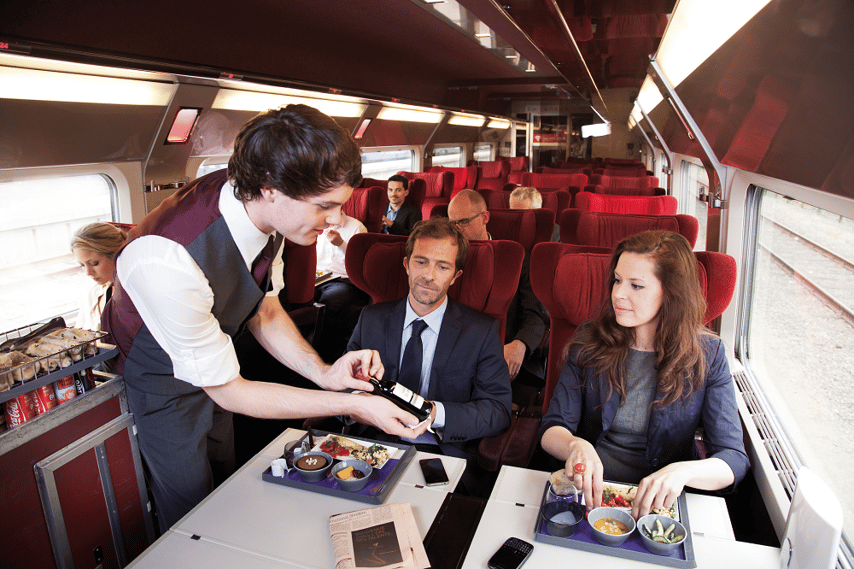 But high speed and avoiding traffic are only some of the benefits Thalys provides. Since 1996 Thalys has offered a smooth comfortable opportunity to enjoy the pastoral landscape while delighting in a gourmet meal with a glass of wine or infamous Belgian ale. The cities mentioned en route are some of the most diverse and desirable cities in Europe with strong culinary traditions, world renowned museums, and a wide range of cultural and sporting events and festivals.