For me, Spain evokes thoughts of sun, deliciously tasty food, and fascinating heritage. I've happily explored some amazing cities in Spain, starting with the cosmopolitan capital, Madrid.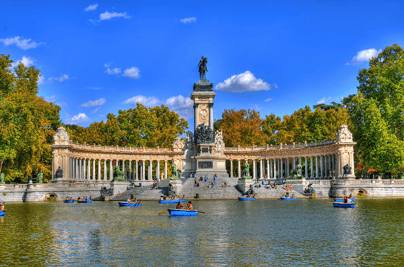 The central location of Madrid makes it a very convenient entry and departure point. Once there, you can easily spend hours exploring its numerous world-class museums and strolling down one of the many elegant boulevards. My favorite spot for people watching is the Buen Retiro Park, one of the largest and most beautifully manicured parks in the city. Once you've worked up an appetite, head on over to the covered food market of San Miguel (Mercado de San Miguel), where you'll find dozens of food and beverage stalls. If you are looking for a lively evening, the Plaza de Santa Ana will not disappoint. You'll find a fabulous selection of cafés, and tapas bars.
Toledo is an easy day trip from Madrid, either independently (by train or car) or with a guided tour. This historic UNESCO World Heritage city showcases Roman, Visigoth, Muslim and Christian influences.
A visit to Madrid's Estación de Atocha is also a must. This gorgeous train station features a grand steel and glass ceiling, as well as its own tropical gardens and turtle pond. Travelling by train in Spain is one of the most efficient and enjoyable ways to get around. The high-speed AVE train network can whisk you from Madrid to Barcelona in under 3 hours. The service is prompt, the trains are very clean, and best of all you travel from one city center to another.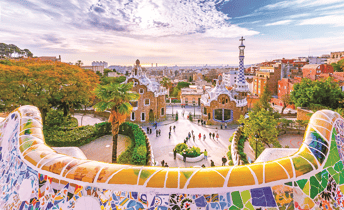 Spain's second largest city is as charming and captivating as you might imagine. Barcelona's main attraction is the Sagrada Familia Church which can be seen from all points of the city. Construction began in 1882 and is slated to finally be completed by 2026. There are plenty of other Antoni Gaudí works peppered throughout the city. The Casa Batlló building for example, is very family-friendly and well worth visit. For the best and most interesting views of the city, I recommend taking the elevator to the top of the Columbus Monument or a cable car ride up to Monjuïc hill.
From Barcelona, you can take a fast (3 hour) and scenic train ride to Valencia. This port city sits right where the Turia River meets the Mediterranean Sea. It's known as the birthplace of paella, so don't miss an opportunity to sample some while you're there. The dichotomy between its historic Old Town and futuristic City of Arts and Sciences makes this a diverse and very interesting city. While there, make sure to stop by the cathedral to see what is claimed to be the Holy Grail. For a day out, I recommend a visit to the Albufera Natural Park, home to Spain's largest lake and to rare species of birds and other ecological wonders.
With so much to see and do in Spain, I always look forward to my next opportunity to explore and discover the wonders of this splendid country.