The Story of How Great Britain Stole My Heart
My most recent trip to England took me on a food Renaissance tour and I am excited to share with you my experience. While discovering the local flavors of Great Britain, I was pleasantly surprised by its culinary Renaissance. Indeed, the English fare from years ago has drastically evolved into a fabulous array of culinary specialties!

My trip took me from London, to the Lake District in Cumbria, and then finally to York. A variety of sightseeing tours and food experiences were the perfect combination, bringing to life an exciting world of food and drink possibilities!

First we enjoyed 3 nights at the Baileys Hotel in the Kensington area. Beautiful property, friendly staff, great bar, homely breakfast area, and best of all - a fabulous location next to the Gloucester tube station. The décor is traditional in the public areas but the rooms offer the latest amenities.

In London I revisited the renowned shopping haunts such as Harrods's and Harvey Nichols but a tour to the Borough Market was one of the highlights. One of the oldest markets in London, the colorful and lively Borough Market was a feast for the eyes and for the taste buds. It was the perfect place to sample a variety of local foods and grab some lunch!

That night we enjoyed a very elegant and unique dinner at the Houses of Parliament. What a grand feeling to dine in such surroundings! We were served a delicious roast rib from Scotland with Yorkshire pudding and the dessert was fabulous, a bread and butter pudding flavored with orange.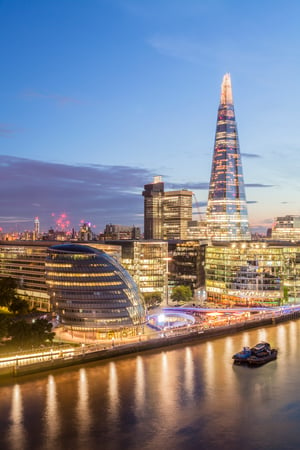 My last visit to England was 18 years ago. I enjoyed revisiting iconic sights such as the Tower of London as well as discovering newer landmarks like The Shard, offering a spectacular view of the city. My favorite part while visiting Kensington Palace was the display dedicated to Princess Diana and her Fashion Story. Recognizing some of her most memorable outfits connected to the corresponding royal events was a moving experience, rekindling my memory of her.
Another one of my favorite sightseeing tours was a visit to the RHS Wisley Gardens, about an hour drive south of London. Guided by an expert, the walk through numerous formal and informal gardens was both compelling and enlightening. A "Farm to Table" lunch followed and once again we enjoyed samples of local fresh food.

Our food adventure wouldn't be complete without a Gin Distillery tour, a stop at a local brewery, and a Whiskey tasting. These popular tours are mesmerizing, as everyone's attention is directed to the guides explaining the history behind the making of these delectable concoctions. Inevitably, the sampling is everyone's favorite part of the tour!

After a few days in London, we headed to Northern England to the Lake District in Cumbria, a spectacular National Park that is very popular with locals and tourists alike. The Lake District is known for its spectacular scenic beauty, darling small towns, and its literary history - boasting famous poets and artists such as William Wordsworth and Beatrix Potter. A 2-and-a-half-hour easy ride on the train took us to Oxenholme, where our friendly and witty guide Andy welcomed us to this beautiful region. For the next couple of days, he would share his love, knowledge, and passion of the area and its treasures.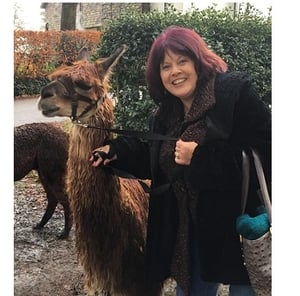 The scenery of The Lake District is stunning, featuring England's highest peak and its deepest lake. The kaleidoscope of colors is spectacular in November. We also enjoyed a short boat ride on Windermere Lake and I could only imagine how busy this area becomes in the spring and summer months. A highlight of our stay was a walk with alpacas on the beautiful Lingholm Estate nearby the town of Keswick. We each were paired with these lovely and calm animals and went on a 1-hour walk with a couple of very knowledgeable guides. Something definitely different but fun and enjoyable. Jasper, my new Alpaca buddy, was well behaved the whole way and my group had a really great time. These beautiful animals with different personalities became our friends for a while. We left with lovely memories of this tour and several brilliant photos.
Our hotel at the Linthwaite House was a charming country house with breathtaking views of Windermere Lake. Recently refurbished it offers modern amenities and boasts a fine dining restaurant.

Our journey continued with another 3-hour train ride to the lovely medieval city of York. We stayed at the only 5-star hotel in York, The Grand Hotel & Spa, a beautiful Edwardian building with views of York Minster and the old city walls. We were treated to a most fabulous dinner that illustrated how British classic dishes have evolved.

A guided tour of the York Minster is necessary to get an understanding of York's rich ancient history and to revel in the stories of its many treasures. I stood in awe of a massive Gothic cathedral offering stunning examples of stained glass windows. A visit to the crypt and under croft museum provided a timeline of the cathedral's long and storied history.

A visit to the York Chocolate Story chocolate factory is also a must. It is fascinating (and delicious, of course) to hear about York's famous history with chocolate. Tasting is par for the course and you can even create your own chocolate confection. After the tour we walked around the Shambles, a street in the center of York dating back from medieval times. Several interesting shops attract tourists and make for interesting stops.
Even if you are not a rail aficionado, the National Railway Museum offers a superb collection of trains and shows the importance of Britain's railways. The Museum holds the largest collection of railway objects in the world. Our visit was followed by a lovely Afternoon Tea on the beautifully restored Countess Carriage. We thoroughly enjoyed a selection of delicious sandwiches, cakes and sweets accompanied by a variety of fine teas.

What a wonderful and delicious trip this was. I encourage you to visit our website to check our newly created packages highlighting the Flavors of Britain by clicking here!