A Trip To the Land of Smiles
Thailand, wow is how I will describe it. Friendly people, wonderful food, historical temples (Wat when speaking Thai), scenery, beaches and water fun. It really has a lot to offer and it all depends on how much time the client has to experience it. Bangkok is the hustle and bustle seen in any major city with history on its side. Now I visited just after the King's passing, so unfortunately the Grand Palace was closed for sightseeing as he was laid in viewing for the citizens of Thailand. But all the other sites were open for viewing and enjoyment. So what is the main focus for Bangkok you might ask? Well one is the multitude of temples to view. I personally toured three, Wat Ratchanatdaram, Wat Pho and Wat Arun. Way Pho is known for the largest lying Buddha and Wat Arun is famously known as the Temple of Dawn. Each was built by a different King of Thailand and offers variety to your viewing experience. Bangkok also has a huge night market and business market where you can find just about anything you could wish for with excellent pricing. Think gifts for all the family and relatives. The food scene is remarkable from street carts to small local restaurants to Michelin star rated restaurants. You can probably find any type of cuisine you are looking for in this vibrant city.
Our hotel offerings are excellent. I stayed at a wonderful boutique hotel named Shanghai Mansion right in Chinatown. It is within walking distance of the Grand Palace and the markets I mentioned above. This property has 76 rooms, air conditioning, free Wi-Fi, a wonderful breakfast, free minibar and more. I was able to experience their superior room for one night which is nice with a poster bed, but for even more room I recommend the deluxe room which I also experienced during my nights there. I don't think your client will be disappointed staying at this property.
Flights within Thailand will use Bangkok Airways which has a modern fleet and wonderful service. You will receive a light meal onboard and you get access to their lounge at the airport for small snacks and free Wi-Fi while waiting on your flight.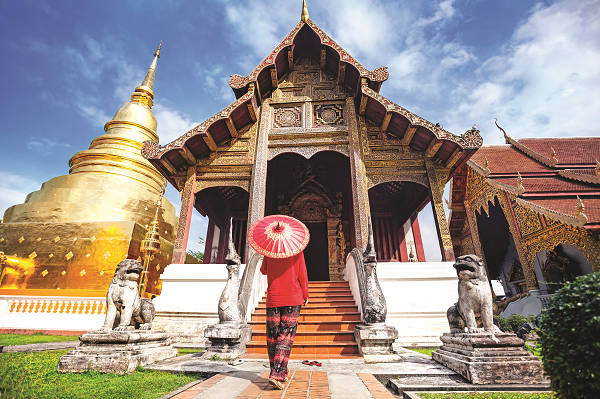 Chiang Mai is the beginning of the hill country where of course there are more Wat's, outdoor adventure and hill tribes. One of the most important temples in Northern Thailand is in the hills overlooking Chiang Mai named Wat Phra Dhat Doi Suthep. There is a whole story about the king setting a white elephant with a holy relic of the Lord Buddha on a hike and when the elephant trumpeted three times, circled three times, then knelt down and died on the spot, the king said this is where the temple should be built. Within the city of Chiang Mai there also is a temple named Wat Phan Tao which is made of teak wood giving a variance on all the traditional builds with gold, white and green. Then there is the night market which is open every day from 6pm to midnight where once again you can shop for reasonable priced Thai handicrafts, hill tribe products, souvenirs, antiques, wood carvings, silverware, ceramics, paintings and more.
One of the most rewarding experiences I did here was a visit to a local Lanna family whose business is herb and rice farming. It is a generational ownership of 150 years. I was taken through the property and lessoned on various herb plants and trees which have specific medicinal purposes. Following this was the pleasure of participating in preparing local organic ingredients (most grown right on the farm) and cooking a traditional Thai meal. Fresh vegetables, pork, chicken, herbs all perfectly blended together for a wonderful lunch eaten right there. I highly recommend you offering this experience to your client when visiting Chiang Mai. They will truly be rewarded.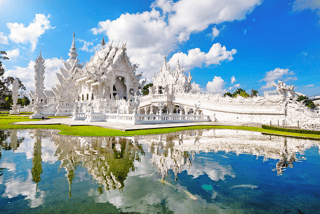 Between Chiang Mai and Chiang Rai you will have the opportunity to experience one of the most unique temples in Thailand called Wat Rong Khun. It is well known as the White Temple. This temple is being built by a famous local Thai artist named Ajarn Chalermchai Kositpipat with his own money.
Further north is Chiang Rai which is at the Golden Triangle. Of course this area is probably most known due to the drug trade, but it really is where three countries and two rivers converge. Long history of strife in this particular region since with areas like this different governments believe they are the rightful purveyors of territories and this results in differences in opinion (Europe has seen this throughout history), but now it is settled and it is a beautiful area to explore. Again elephant camps and hill tribes are the predominant reason for visiting. I had the pleasure of staying at the Anantara Golden Elephant Camp & Resort. This is an excellent property set on 160 acres of jungle and is a reserve for female elephants along with a traditional Mahout Camp for the handlers of these elephants. This is home to abandon or injured female elephants now kept in a natural environment. The hotel is one of the most highly rated in the world, is all-inclusive and set on a hill overlooking the Golden Triangle.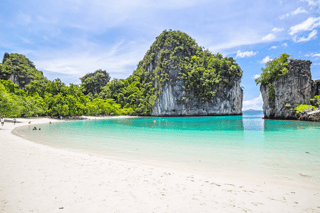 Next destination is Phuket for some water fun. Of course one of the most famous sites is Koh Tapu, better known as James Bond Island, used in the film "The Man with a Golden Gun". Also part of the experience is canoeing through limestone islands and swimming or possibly snorkeling at a party island. You also get to have a unique lunch experience at Koh Panyi which is a Muslim community living on homes built on stilts over the water.
As you can see this is the brief version of this exciting destination. I honestly say it was rewarding, educational and an experience that I don't think anyone who visits will be disappointed in. So hopefully this provides you a little insight into Thailand and what your client might experience. Of course our call center staff is there to help you put all the pieces in place to make it just what your client wants to see.