My stop in Paris was a brief 2 night trip, but the city was hopping!

It's les Solde (sales) time, which means the stores, as well as the cafes are jammed as the weather was mild with no rain. The sidewalks in the Marais District, Printemps and Galleries Lafayette on Boulevard Haussmann, St-Germain-des-Prés, were all were teeming with shoppers. This is serious business for the Parisians and they take no prisoners when it comes to this bi-annual event. Don't be shy about wading in and look out for those sharp elbows! Among all the tourist groups, for the first time, I noticed many more Chinese.
(FYI: Summer sale begins Jun 28-Aug 8).And one big improvement; much cleaner sidewalks with regard to dog waste. Is the city doing a better job of sweeping them, or are the Parisians picking up after their pooches? Observing many of the "bagless" dog walkers, I suspect the former.

Yes the Seine overflowed its banks. But if you watched the network news back home, you would swear that the city was completely submerged. I walked down to I'le Saint-Louis, only to find hordes of tourists on the Pont Marie, snapping pics/selfies of the river. One Metro line was still closed for awhile when I was there, but things were gradually getting back to normal.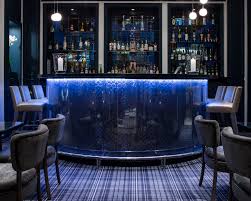 Off to Hotel Edouard VII, the latest addition to the Avanti hotel program. It's been a few years since I have stayed at this upscale property, once the historic home of Edward VII. The outer facade remains very traditional, however the interior of this boutique hotel has been renovated, and feels much more contemporary. The stunning E7 blue bar is cutting edge and oozing with Parisian cool. And you couldn't ask for a better location between the Opera and the Louvre. Many of the sleek rooms look out onto the Opera Garnier and have ivy-covered Juliet balconies. You'll find locals dining at the sun-lit Cuisine l'E7 restaurant, run by two of the top talents in French gastronomy.

I popped into the Left Bank institution, Closerie des Lilas. It's a bar/restaurant famous for literary and artistic greats who frequented this place like Picasso, Gertrude Stein, and of course, Hemingway. As I ordered a glass of champagne, it appeared that nothing had changed since my last visit. The chairs at the bar where they held court remained the same. And I recalled a visit years ago when I asked the waiter which chair was Hemingways. He hesitated for a second, and then replied, "Monsieur, he has fallen off every one of them."

CDG Airport - Kind of a victim of its own success. Not my favorite as there are just way too many travelers trying to make their way through the screening area to the gates. I was scheduled to depart from terminal 2D, and the lines for security were already staggering. I had given myself sufficient time, but there were many passengers in line that were panicking and pleading with the staff to move them to the front to make their flights. And this was for flights scheduled at 7am....on a Sunday! I strongly suggest that whatever your planned arrival is at CDG, add an additional 30 minutes. The worst scenario; you'll have time for a coffee or last minute shopping.