I can't begin to tell you how much I love this island, and I've seen a good number of islands in my life. It is one of the most romantic destinations I've ever visited, and I'm certain that I'm not alone in making this statement. Balinese people are very warm and kind, and they also speak perfect English which makes it easier to travel around. While Bali has a great selection of luxury hotels compared to many other popular destinations, it is still on the affordable side. For example, a suite with a private pool in a 5-star resort could cost the same or less than a 3-star hotel in Hawaii so you're not going to have to break the bank while having the time of your life on the beautiful rice paddy terraces or the serene beaches in the south.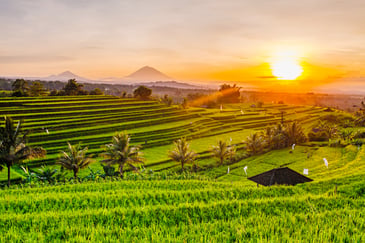 If you're a first time visitor, you will want to visit both Ubud and South Bali. The majority of our clients like to spend more time at the beach area, but not necessarily all at once. Our Bali Romantic Retreat itinerary starts with a beach stay in South Bali and it could be anywhere from Sanur, Nusa Dua, Seminyak, or Uluwatu. Then, you can head up to Ubud where you see an abundance of rice terraces along the hills. This is also where you can shop for local handicrafts, visit the Monkey Forest, and learn about the local villagers' rich culture. If you're also interested in soft adventure, you could hike the Volcano Agung or do some water rafting. Yoga is also offered in town or at most hotels for beginner and advanced yogis. After Ubud, you will head back down to South Bali where you can select a different area from your first stay.
To make this itinerary even more romantic, we have added a Candlelit Dinner in a Cave for you and your significant other. This is a truly amazing and exclusive experience. Our guide and driver will take you to a beach and leave you both roaming around in Nusa Dua with the provided water activities, then later set up a candlelit dinner for you in a cave by the beach. It is something special that is great for an anniversary, a proposal, or simply a romantic getaway treat!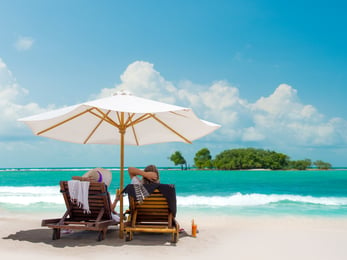 I know Bali is not yet as well known to American tourists as much as Thailand, but it is definitely a well-known place for other tourists including Asians, Europeans, and Australians (I know plenty of tourists from all over Asia who have either had their weddings or honeymoons in Bali). With that being said, I will not be surprised if Bali becomes a top romantic bucket list destination for Americans in the near future. I highly recommend looking into this destination when you plan your next beach visit to Asia.