Winter Illuminations in Japan
Everyone wants to go to Japan during the Cherry Blossom season and I honestly don't blame them. However, not that many people know that another great season to visit Japan is in the winter. On my last trip to Japan, it was in the end of November and the weather was actually very nice! My colleague also confirmed this when he went in January. I was amazed with the noticeably lower number of tourists and the hotel rates! During that time, I got to see the leaves changing all over the parks and scenery outside my high-speed bullet train rides.
I also had an opportunity to experience the winter illumination light shows which usually only happen during the winter months. It's probably one of the most mesmerizing experiences I've ever had! This could easily be arranged because we have our amazing local suppliers to book tickets in advance. We recently added these tours from Tokyo or Osaka with either public transportation or private vehicle options. I highly recommend these tours if you travel within October through February.
Nothing is better than bathing at an onsen during the chillier months. I cannot recommend doing this enough. It's a once in a lifetime experience. You can use a shared public one or stay at an accommodation with your own private onsen. I would recommend spending some nights at ryokans (traditional Japanese style inns) over western ones because I am a huge fan of the traditional tatami floor and Japanese futons. You'll be amazed at how cozy they are. Not to mention walking around the lodge in yutaka! It's a whole experience in itself. Most of our ryokans include half board so you'll get to taste the fresh local cuisine for both breakfast and dinner.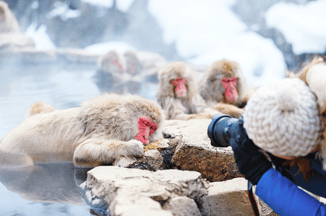 Though I did mention that not many people go to Japan during winter, tourists are slowly finding out about this opportunity. Therefore, if Japan is on your bucket list, I strongly encourage you to try Japan in the winter soon. Even if you are not first time visitors, you still should try this different season in Japan and you will get to see this beautiful country from a different perspective!
So did I persuade you to visit Japan during winter? Let me know!
Sayonara,
Janet