London: For the First or Tenth Time Visitor
Recently I was speaking to a colleague about a potential vacation that might include a couple of nights in London, and she asked me if I ever get tired of going to London. My answer was quick and easy – nope. We've all heard the famous snippet of the Samuel Johnson quote "…when a man is tired of London, he is tired of life…" and I couldn't agree more. Whether it's your first time to London, or your tenth, there are some things in London that never get old…Seeing the Icons
What do Big Ben, Westminster Abbey, St Paul's, and Buckingham Palace have in common? They're all structures I want to see every time I hit the city. Gorgeous architecture and historic importance aside, they're all true icons of London and the perfect backdrop for a picture you know you're dying to post on your favorite social media platform.
Feeling Enlightened at the Museums
The choices seem never ending in London, and their benefit is two-fold: an inside escape in case of poor weather, and even better, they're free! I always pick at least one museum to pop into, even if just for a few minutes. There's a museum for everyone, but the mainstays focus on art and history:
For Art Lovers

The National Gallery, my favorite, where you'll find masterpieces by the greats of many different eras (pretty much everything in Room 43 is my favorite piece here)

The National Portrait Gallery, around the corner from the National Gallery and often dismissed but worthy of a visit

Tate Britain, located a 10-minute walk along the river from Big Ben & The Houses of Parliament, and home to the national collection of British art plus pieces from international artists (my favorite piece is Ophelia by Sir John Everett Millais)

Tate Modern, home to a large collection of modern and contemporary art

Victoria & Albert, or the V&A as it's known to most, is an art and design museum that also frequently has special fashion exhibits
For History Buffs
British Museum, packed full of art and artifacts from around the globe

National History Museum, particularly fun for families traveling with younger kids
Going for a Stroll

London has a super-easy public transportation. It's almost ridiculous how easy it is to use their subway system, officially called The Underground and unofficially called The Tube by most. Good thing, too, because London is a rather large city and sometimes the two places you want to see are not that close to each other. That said, leave time for walking! There are lovely routes along both sides of the River Thames, and many walking paths in Hyde Park, Green Park, and St James's Park. Or pick a neighborhood, like Mayfair, Covent Garden, or Belgravia and just wonder – some of my best finds while traveling have been things I just stumbled upon while on a walk that had particular destination.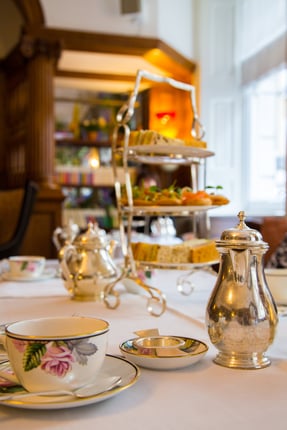 Eating and Drinking EVERYTHING

I don't know about you, but when I travel my days are pretty much figuring out what I'm going to eat or drink next. There are literally thousands of pubs in greater London, and some of the names are pretty entertaining. Popping into a pub for a pint of anything instantly makes me feel like a local. And nothing brings out my inner English-ness than a cuppa tea. You can have a no frills cup at any of the plentiful coffee shops, stop by a bakery for a proper pot of tea, or book a full service Afternoon Tea at any of the stunning 5* hotels. I recommend B Bakery, the cutest tea house on a corner between Covent Garden and Trafalgar Square. The décor inside is all things girly but without going over the top, with plush chairs, whimsical yet chic murals, and a counter full of gorgeous sweets. There are almost 20 different teas to try, served to you in beautiful mismatched china. You can order a full afternoon tea, or just enjoy a pot and a scone. When you're hungry there is no shortage of options. As one of the most culturally diverse cities in the world, London offers food for any palate. I always have room for dessert, and my go-to is Ben's Cookies.