On my last trip I visited 20 of the properties we sell in Paris. We have over 50 hotels and apart-hotels to choose from in Paris, and always try to work with small independent boutique or European hotel groups. This gives you a more authentic experience – more connected to the place you're visiting.
There isn't anything that makes you feel quite as much like a local as staying in an apartment. The four Citadines apartment hotels are all in different Paris neighborhoods but each are set up the same way. Breakfast isn't included, so you can either go shopping and make your own, or drop in at a café. You truly feel like you are living in Paris!
Two of the Citadines have been renovated recently. All have either a studio or one-bedroom unit with bathroom and kitchenette, and each property has onsite laundry facilities available. All are very safe – they have a locked front entry and a front desk, like a hotel.
The 3-star Citadine Bastille/Marais is close to trendy shops of the historic Marais district. I was really impressed with the renovation, the updated style, the new furniture, and how spacious the apartments were.
The 4-star Citadines Tour Eiffel was also wonderfully renovated. It's very bright and cheerful. Some of the premier units have a view of the Eiffel Tower. And you couldn't be closer to the Metro – it's right across the street!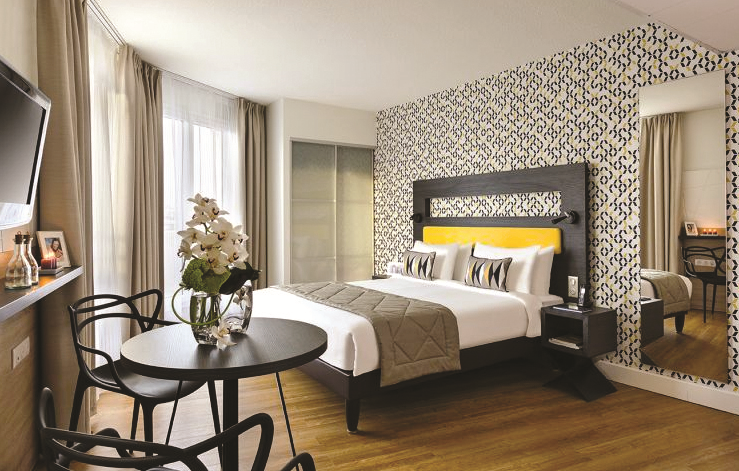 Two 4-star superior boutique hotels that we recently added are the Baume and Les Dames du Pantheon.
The Baume is very close to Boulevard St-Germain on the Left Bank. It's an area with lots of restaurants, bars, and pedestrian areas. The hotel is across from the Odéon Theater. Rooms on the top floor have balconies that look right onto the theater. The décor is 1930s with accents related to fashion and architecture.
Les Dames du Panthéon is the sister property, located across from the Panthéon. You have a great view of Sacré Coeur, and it's just a 12-minute walk to Notre Dame. Design details on each floor pay homage to a famous French woman, like Georges Sand and Edith Piaf. Its romantic ambiance makes it perfect for couples. Around the corner is the Luxembourg Gardens and Rue Mouftarde, one of Paris' oldest and liveliest streets in a typically Parisian neighborhood.
Another 4-star superior property we're excited about is the Hotel Square Louvois, which just opened in August 2016. It's about 7 blocks from the river on the Right Bank in an area where we didn't have any hotels previously. The décor is somewhat masculine and definitely elegant, with high ceilings, vintage photographs, and a literary theme. There's also a swimming pool underground in a space with a barrel-vaulted ceiling. All the wellness/spa facilities are underground.
We recently started selling another 4-star superior boutique hotel, Le Saint. We love this hotel for its gorgeous boutique décor, top notch service, and its onsite restaurant favorited by locals. Even more, the location is fantastic: on a quiet, discreet street on the Left Bank, just around the corner from Boulevard Saint-Germain and the action of the Latin Quarter.
Wherever you want to be in Paris, Avanti has great places to stay!