Get off the Boat: Pre-Cruising in Scandinavia
With so many cruise lines either embarking or landing in Scandinavian cities, why not take the opportunity to spend a few days to enhance your vacation? It's not only a good way to begin or end your cruise, but a chance to sample, in many cases, a new country.
Some travelers make the mistake of arriving the day of their cruise departure. Not a good idea. Too many variables.......especially a late or canceled flight. Your options will be so limited that by the time you do arrive, your ship (both figuratively and literally) has sailed. Even if things go as planned, you'll still have additional stress worrying time constraints. And after a trans-Atlantic flight, what kind of shape will you be in upon arrival? Answer: Not good. I've arrived one day earlier in the past, but in retrospect, I'm convinced 2 days would be better. One to recoup and adjust to the time difference, and the second, to take on the day.
2 Nights in Copenhagen
The capital and largest city in Denmark, Copenhagen is a charming and vibrant; blending modern architecture with carefully preserved historical sites. And has something to offer everyone's taste; museums, art galleries, canals and lots of open green spaces.
Nyhavn: The old commercial port has been renovated with restaurants and shops. This area was the home of many prominent artists. Several of the old houses have been renovated, including, nbr 20; home of their famous author, Hans Christian Andersen.
Tivoli Gardens: Yes it's an amusement park, but not just for children. Besides some of the exciting rides, there are concerts, restaurants and a beautifully landscaped gardens. We have been there during the day and the evening, but I recommend going at night, The gardens are open until midnight, and due to the long daylight hours in the summer, it's open until midnight.
The Little Mermaid:

At the Langelinje pier, the famous statue inspired by Hans Christian Andersen's fairy tale resides by the water. I'm sorry, I don't get it, however hordes of tourists make their way to have their selfies taken. Who am I to argue with her popularity, but have to say it reminds me of the Mannequin Pis fascination in Brussels.

Castles: As most Americans are into castles, a visit to the Kronborg castle is a must. Renowned from Shakespeare Hamlet. Built in the late 1500's it's on the UNESCO World's heritage list. Another option and my favorite is Rosenborg castle. The stunning gardens are worth the price of entrance by itself, but inside the exhibits of the crown jewels, the armory, and even the changing of the guards. Centrally located, and you get free admission with your Copenhagen card.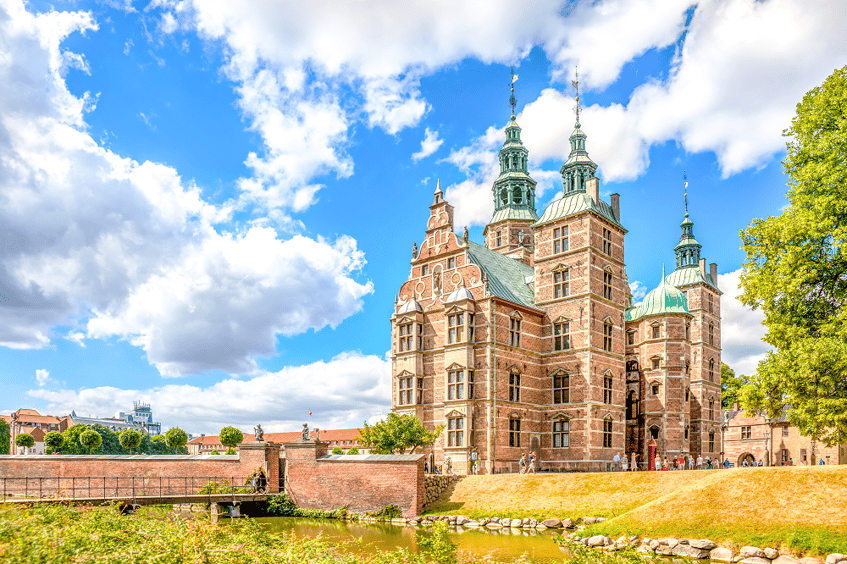 If you have one more day, and let's say, you've never been to Sweden. After a 20 minute train ride from Copenhagen's main station to Malmo's central station, you're there. Malmo, Sweden's third largest city is a pleasant surprise, with beautiful parks and contemporary museums. Look up and you'll see Scandinavia's tallest building, the famous "Turning Torso"; 190 meters high and twisting 90 degrees from the base to the top. From there, it's a short walk to Lilla Torg, which translates to "Little Square". Built in the 16th century with half-timbered houses, it's full of pubs, shops, and restaurants. The locals says it's too touristy, but so what? That's what you are. So enjoy it, have a lunch or dinner before returning to Copenhagen.
And no need to change currency as the Malmo shops and restaurants will accept Danish kroners or Euros, however please note that change will be given in Swedish kronas.
Cuisine: Synonymous with Denmark are their open-faced sandwiches. Smørrebrød (originally smør og brød, meaning "butter and bread") usually consists of a piece of buttered rye bread (rugbrød), The topping can be cold cuts of meat, fish, cheese or various spreads. I tried then while walking along the famous pedestrian street Strøget. Can't say it's my cup of tea, but you're on vacation, so give it a go. The Danes love beef and pork, and with it's proximity to the water, you'll find plenty of seafood dishes including salted herring to sample. Two excellent beers to try are Carlsborg and Tuborg, but you'll find a wide choice of European wines to accompany dinner or just having a glass at one of the cafes. One of country's favorite treats is Danish licorice. They have a love affair with this candy and especially salted variety. Try it, and maybe take some home as a souvenir, but let me just say, it's an acquired taste.