Wander In Switzerland - Travel Aboard the Glacier Express
It goes without saying that every traveler should experience this route at least once in a lifetime. The Glacier Express has become an attraction in itself, where passengers focus more on the journey than the destination. For that reason, the slowest express train in the world takes 8 hours to cover a 170-mile distance from St. Moritz to Zermatt, and vice versa. It may seem slow, but once you're faced with the grace of the imposing Alps, you wish you could spend just one second longer with every landscape that unfolds.
For over 85 years, the Glacier Express has kept travelers glued to their window while slowly crossing the idyllic valleys of the Swiss Alps. Starting in the lake town of St Moritz, the train will make short stops in Chur, Disentis (the longest stop for approx. 30 minutes), Andermatt, Brig, and Visp, before reaching its final destination in Zermatt.

Along this beautiful route, the landscape speaks for itself. During winter, the magic of the Alps comes in the shape of a frozen wonderland, covered from the soaring peaks to the small valleys below. Pine forests are heavy with snow, and the small towns with the church bell tower in the distance contribute to its fairytale atmosphere. During the warmer months, Switzerland is brimming with color. From the quintessential images such as cows grazing on green pastures and flowery fields to the 291 bridges and 91 tunnels, the mountainous landscapes will keep the camera shutters running and the passengers in awe. Thanks to the large panoramic windows, the journey becomes much more immersive while riding through the Rhine Gorge, over the Landwasser Viaduct, or the highest point of the itinerary at the Oberlap Pass.

During your transit, the Glacier Express will offer an enjoyable experience to match the outside setting. Comfortable seats provide ample legroom in all classes, along with in-seat catering with a choice of a 3-course menu or meal of the day, and beverages. Remember to reserve your meal in advance, and advise of any dietary restrictions.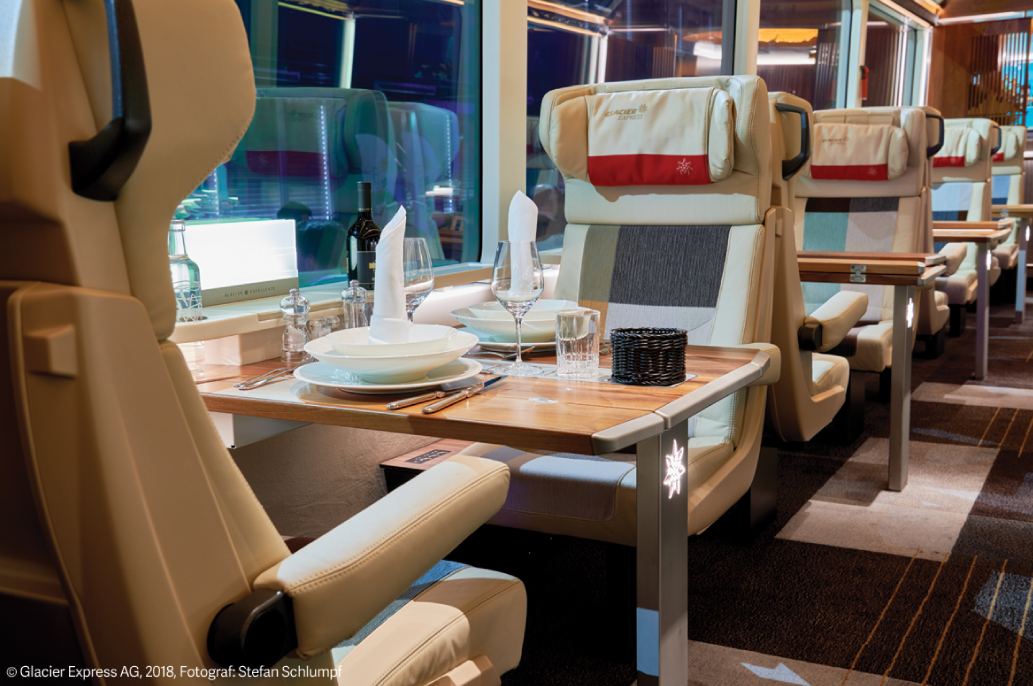 For those who wish to revel in luxury, the Excellence Class sets a new standard for this exciting vacation. During the entire journey, all your needs will be taken care of by a concierge, whether it's with culinary delights, personal concerns, or even information about the culture and nature outside. Enjoy your guaranteed window seat and indulge in a gourmet 5-course meal with accompanying wines, and savor an aperitif at the Glacier Bar. A comprehensive experience to remember aboard the magical Glacier Express.