Japan: A Dream Destination
Japan; a dream destination for many world travelers. It's a country that never fails to impress regardless of how crowded it's gotten over the past few years. It's a one of a kind destination and there's nowhere else like it.Tokyo is a bustling city that is full of history and futuristic technology. It is a city that I could spend a week or longer exploring with no problem. There is just so much to see and do! On your first visit, you must see the Imperial Palace, Sensoji Temple in Asakusa, and of course the Meiji Shrine across the street from Harajuku. This tour is best via public transportation as it is the most efficient way to travel in Japan. This half day tour will end in the Shibuya area where the guide can explain how to get back to the hotel or the next sight of interest. This way you can spend the rest of your day in the city at your own pace. Grab some lunch or dinner then consider visiting the cat/owl/hedgehog/maid cafes around the city!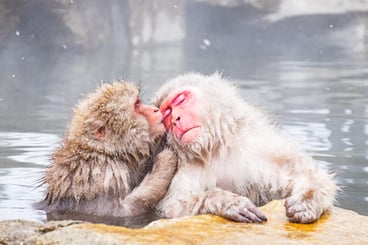 Though you can visit the Japanese Alps throughout the whole year, the winter time is extra special as you will get a chance to see the snow monkeys in Obuse, which is an easy visit from Nagano. There's nothing like seeing hundreds of snow monkeys all bathing in the hot spring (onsen). Though it is tempting, this particular onsen is for monkeys only! There are also plenty of ryokans with onsens in the area that you could spend a night and enjoy the Japanese traditional accommodation. Another area that is a must visit in winter is this UNESCO World Heritage site, Shirakawago where you'll find beautiful prayer farm houses capped with a blanket of snow across the village.
I don't think a trip to Japan is complete without a visit to Kyoto. This historical city is full of shrines and temples. It's highly recommended to spend at least 2 nights in Kyoto. You can stroll around the Higashiyama District, hang out at the restaurants or bars in Gion and maybe get lucky to see some geikos (geisha) before they head to work! In the Kyoto Full Day tour, it'll also include the East side of Kyoto: the Philosophy's Path and Ginkakuji (Silver Pavillion).
Japan will always remain one of my favorite countries and once is never enough. There's a lot more to see than the golden route. This Beauty of Japan has introduced the Japanese Alps area but if time is allowed, we highly recommend adding either a day trip or a night in Hakone as winter is great time to view the otherwise elusive Mount Fuji. If this is not possible, you may still get a glimpse at her while on Shinkansen from Kyoto back to Tokyo!