Christmas Spirit in Full Force: German Christmas Markets 2018
Advent Season
Having grown up in Germany you can believe me when I say Advent Season in Germany is the best. Starting four Sundays before Christmas - this year on December 2 - we light one additional candle every week on an Advent wreath, until all four are lit. As days are short and gloomy, candles bring coziness or 'Gemütlichkeit' into our homes. When the house smells like fir-tree greens and home-made Christmas cookies, there is nothing better than snuggling up on the couch to enjoy a hot chocolate and devour some vanilla crescents, cinnamon stars or traditional Christmas Stollen.But besides the 'Gemütlichkeit' at home, one major part of Advent season is, of course, the Christmas markets. Every town and city has one, starting in late November/early December. Little wooden huts adorn the streets of the inner cities, often gathered around the town square, and decorated with fir-tree greens and Christmas lights. Some of the most famous ones are the Nuremberg Christkindlesmarkt and the one at Marienplatz in Munich. But smaller cities as for instance Regensburg should not be disregarded. Often times the smaller markets are less crowded and less commercial and the one in Regensburg in particular is set in the courtyard of Thurn and Taxis Palace.

Get your Christmas gifts
Christmas markets are where you can find unique local crafts and artworks, perfect gifts for your loved-ones back home. The products range from traditional wooden nutcrackers, incense smokers, advent stars and ornaments to contemporary art, natural cosmetics, practical household items and much more.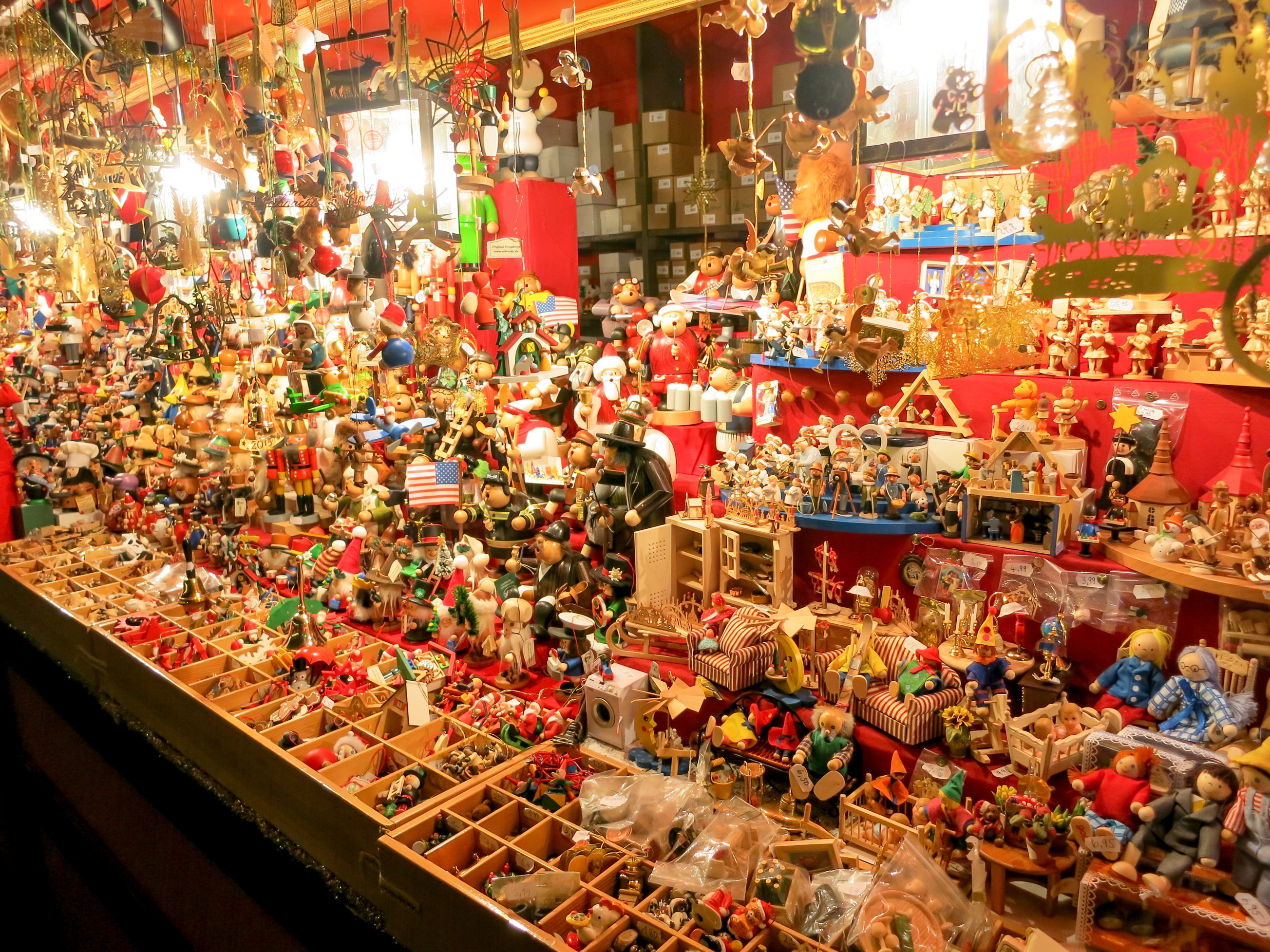 Fill your stomach
Not just a place to shop, Christmas markets cater to all your senses. The scents emanating from the food stalls make everyone's mouth water. There is just too much to choose from, I don't even know where to start. Of course there are regional sausage specialties like Bratwurst, Currywurst and many more, but also plenty of vegetarian options, like soups and baked potatoes.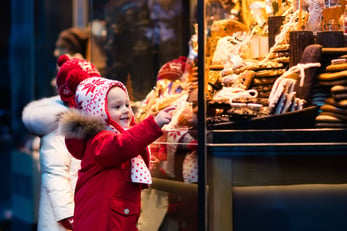 My personal favorite is the German version of a potato pancake, often called Reibekuchen (but names may vary according to region), served with apple sauce. With all the warm and savory foods on offer, make sure you leave room for dessert. Sweet delicacies abound! Gingerbread is probably the most famous German Christmas treat and it comes in various editions. One of them makes a great souvenir: the gingerbread heart that has a sweet message written on it with frosting. These are edible, but often look too cute to eat and end up as decoration rather than in your mouth. Do make sure to try some chocolate-covered and candied fruits, sugar-roasted almonds (try to get them fresh and warm!), and other baked goodies.
Warm up
To warm up try a hot chocolate 'mit Schuss' - a shot of liquor (usually rum or amaretto), or of course the staple of German Christmas season: Glühwein (mulled wine). Mulled wine usually comes as a red wine that has been cooked with oranges, sugar, cinnamon, cloves, cardamom and sometimes other spices. Just like the hot chocolate, you can add a 'Schuss' to it to make it warm you up from the inside even more. Don't worry, there is also a non-alcoholic version called 'Kinderpunsch' (children's punch).


If you can't make it to Germany this December, try this recipe for Glühwein at home:
1 bottle of good quality red wine

1 cup of water

juice of 1 lemon

5 oz sugar

3 cloves

1 cinnamon stick

1-2 oranges - cut into bite size pieces and some slices for decoration
Put all ingredients in a pot and bring it close to boil (but do not boil). Add bite size orange pieces for additional taste. Let simmer. Remove cloves and cinnamon stick before serving it into lightly pre-warmed glasses. Decorate glasses with a slice of orange.

Frohe Weihnachten!