Tastes of the German Christmas Markets
December is a wonderful time to visit Germany. Not only because of less crowds, better rates and great atmosphere, but for Christmas Markets! Germany has almost 150 different Christmas Markets throughout the country to explore and sample holiday treats. Most are from the end of November lasting until Christmas Eve.
The oldest and largest Christmas Market in Munich or as the German's call it "Christkindlmarkt" is at Marienplazt in the historic city center. Stalls line the market full of many handcrafted gifts like German Christmas ornaments, hand painted glass, and sheepskin jackets.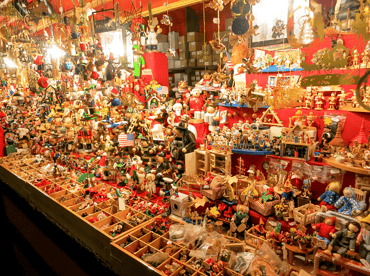 Another great Market in Munich is in the Avant-garde area of Schwabing. Located north of the city, it is easy reachable by public transportation. Whether it be by S-Bahn or U-Bahn, once you are there you are in a totally different part of Munich that most visitors don't get a chance to experience. Schwabing has various stalls offering not only food and mulled wine, but candles, handcrafted scarves, jewelry, and art from local artists. An experience that will last forever. Moving north from Munich you will hit the medieval town of Nuremberg. Nuremberg hosts the oldest and most traditional Christmas Market in Germany. The market dates back to the 16th-century and it hosts almost 2 million visitors per year during the month of December. Located on the Hauptmarkt Square in the old quarter, Nuremberg's Christmas Market has something for everyone!
I really enjoy the food at the Nuremberg Christmas Market. I can't leave Nuremberg without having the famous Nuremberg Sausage. Three grilled sausages laid upon a fresh roll with a slight amount of yellow mustard. It's such a cheap treat that you can eat all day long to give you energy to visit the almost 200 stalls in the market square. You will need something to wash down the sausages, so I would recommend a cup of mulled wine called Glühwein. This spiced wine is perfect on a cold winter evening. Also you can't forget the Gingerbread! Gingerbread can be found at any Christmas market in Germany.
Avanti has a great package for the Christmas Market. It consists of 2 nights in each Munich and Nuremberg with a private guided tour in each city. One dinner per city and daily breakfast are also included. Come and visit Germany in December to experience the Christmas Markets for yourself! You won't be disappointed!
Ready to book winter travel? Gain insight on where and when to travel with Avanti's new Go 365 Winter Travel e-Brochure!