My Top 5 Reasons to Visit Europe in the Winter
Have you ever truly considered all the benefits to traveling to Europe during the winter? If you haven't, don't worry I did it for you! I introduce to you my top five reasons for visiting Europe in the winter...
Smaller Prices + Smaller Crowds = Huge Benefits
While there are times during the winter where prices can still be a little high and places are drawing travelers, by and large the winter months bring deep discounts and decidedly less tourists than the rest of the year. Just the airfare alone decreases dramatically, with low season fares often hundreds of dollars lower than shoulder and high season. At hotels discounted rates and free night specials abound, and with lower occupancy levels the possibility of a complimentary room upgrade is more likely. Less people traveling during the winter also means smaller crowds and shorter (or maybe even non-existent!) lines at major sites, giving you a more enjoyable experience and more time in your day to see and experience your favorite cities.
Liven Up Your Itinerary with Festivals & Holidays
Planning a trip around a major event or holiday is super easy during the winter when you consider all the possibilities! Christmas markets can be found in most major cities, but I think the best are found in southern Germany and Austria. Typical Christmas markets in this part of Europe offer rows and rows of small wooden huts selling all manner of decorations, toys, and candles, which you can peruse while sipping hot chocolate or gluehwein (hot mulled wine) from a keepsake mug. Add to that the smells of roasted nuts and the sounds of carols, and you basically have the fairytale scene most of us envision when we think of Christmas markets. That's not all, though! New Year's Eve in Edinburgh, Valentine's Day in Paris, and Carnival in Venice and Nice are all fabulous reasons to travel to Europe during the winter.
Fun "Winter Only" Activities
While there are some things you can only do in the summer (swimming in the Mediterranean in January? No, thank you!), there are also activities you can only do during the winter. Seeing the city lights in the City of Lights during the middle of winter is spectacular, since the dark night sky helps show off the illuminations even better. Yes, you can do that tour in the spring and fall, but in the middle of summer it is just not possible. Hunting for glimpses of the Northern Lights in Iceland and Norway is impossible in the summer when the sun shines almost 24 hours a day! Let's not forget night sledding in Switzerland and dog sledding in Finland, two amazing experiences one can only have during the winter.
"Bad" Weather Isn't Always Bad
We often associate winter with bad weather, and I can understand why – I mean, I'm not going to lie and say it doesn't rain or get cold during the winter. That said, weather like this isn't always bad. I actually think gloomy skies can add to the ambiance in places like the scenic roads in the Scottish Highlands, Pere Lachaise Cemetery in Paris, and castles of Ireland and Germany. If it is raining or too cold to be outside, you can spend the day inside world-famous museums, palaces, and shops without feeling guilty about not spending your time outdoors. Even better, cold weather gives you more reasons to stop by a local pub to warm up with a whisky, sit by a large fire in your beautiful hotel, try to find the best hot chocolate in the city, or enjoy the coziness of a small bar or café where you can mingle with the locals. Of course, there are also times where you'll have decent weather. I traveled to England during Thanksgiving week last year – had a day of nothing but sunshine and blue skies, only one day of rain, and overall better weather than if I had stayed at home. A few years ago I traveled to Iceland in February, and for the first few days of my trip it was actually warmer in Iceland than where I live near Portland, Oregon! I've been to Stonehenge twice, once in August and once in November. Guess what? It rained both times. Weather will always be something in life that constantly changes and is never guaranteed, so no matter when you travel you just have to find the best way to still have fun no matter what you're given!
Less Tourists Means More Opportunities for Interacting with Locals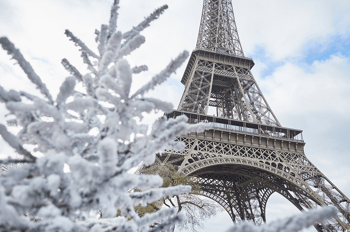 Talking with people from other cultures and countries is a wonderful way to learn more about this wide world we live in, and is one of the most beneficial takeaways from international travel. In my travels I've definitely found more opportunities to talk to locals during the winter months, when there are less tourists around and less hectic environments. For instance, last November I visited The Shard in London, and one of the employees there started pointing out places of interest to me then told me all about a new movie coming out this summer that had been filmed at the White Cliffs of Dover. A few weeks earlier I was in Paris and my server one night at dinner started asking me questions about our election. Both situations brought about interesting conversations that I doubt I would have had in the middle of summer when places are packed with tourists.
Have you traveled to Europe during the winter months? I'd love to hear your favorite reasons! If you haven't already checked out Travel Agent Central's list of top bargain destinations, check it out now!
Ready to book winter travel? Gain insight on where and when to travel with Avanti's new Go 365 Winter Travel e-Brochure!