What's New in Avanti's Asia 2018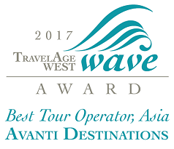 After months of production, we've finally launched our third Essence of Asia Brochure for 2018-2019! We're proud to announce that in just under two years, we've been awarded by TravelAge West as the Best Tour Operator, Asia! Since we added so many destinations last year, this year we're focused on the products within our existing destinations. We've added over 50 hotels, many exotic and unique excursions, and exciting new recommended packages.
While we have our trusted local partners, we still constantly send our staff to inspect products throughout the year. This year we found many great hotels to add for Avanti clients. For example, we added the Asakusa View Hotel in Tokyo for clients who prefer to be in the old town side of Tokyo and within walking distance to Sensoji Temple. In Bangkok, we added my new favorite hotel 137 Pillars Suites and Residences which is located in Sukhumvit close to many major shopping malls and transportations. You'll get a true 5-star experience with an amazing city view.
Because we know that our clients love to have local experiences, we have added plenty of them across the brochure. We have a Private Home Cooked Meal in Hanoi, where you'll get a real local experience. Some of our hosts also know how to play local instruments so you might get lucky for a treat after a great meal. Besides living like a local, we are also able to reserve special tickets to baseball games at the Tokyo Dome, the Kabukiza Show, a Thai Boxing Match in Bangkok and more!
Last but not least, we have developed many new exciting packages based on client requests. We've added several new packages including Beauty of Bali where the itinerary takes you to the cultural hub of Ubud where your guide will show the way villagers live across the breathtaking rice paddies and pristine beaches. Another package for foodies is Taste of Japan where you'll get all the city highlights of Tokyo, Kyoto and Osaka while eating your way through local foods and plenty of cooking class options.
While we already have many great products to offer, we never stop looking for something better and different. Since we're a FIT operator, we are always happy to accommodate your clients for any special requests!