Europe's Best Kept Secret
The Slovenian Tourist Board calls it "A Green Treasure of Europe" and "The Sunny Side of the Alps". I'd like to add one more moniker; No, I'm not going to drag out that tired cliché "hidden gem" but it's definitely "Europe's best kept secret".
Formerly part of Yugoslavia, Slovenia broke away in 1991 in a relatively bloodless separation, and became autonomous. Bosnia and Croatia also declared their independence, however the result was different, as simmering ethnic tensions exploded into intense fighting between the Serbs, Croats and the Bosnians. Fortunately for the Slovenians, they remained neutral and managed to avoid any of the hostilities. Slovenia became a member of the European Union since 2004, and the Euro is the currency. So it's been a struggle to lure Americans to visit, partly due to our poor sense of geography although several cruise ships are now stopping in Koper.
This small country is tucked away between Austria to the north, Italy to the west, Hungary to the northeast, and Croatia to the west. Because of its' proximity to these countries, it makes it easier to include Slovenia as part of your itinerary.
The driving distance from Graz. Austria to Ljubljana is just over 2 hours and Villach is even closer. Zagreb, Croatia is less than 2 hours away, and Trieste, Italy is just over 1 hour, and Venice only 3.
On our first visit, we rented a car in Trieste and made the short drive down the coast, to the beautiful seaside town of Piran.
A UNESCO heritage site that was for centuries under Venetian rule. And it's clearly evident in their architecture and piazzas. Winding, narrow cobblestone alleys, and a plethora of seafood restaurants. We stayed there 2 nights, and when the tourists left, the town was yours. This could (should) be more than a day trip, especially if you have a car.

Ljubljana: The capital and the largest city in Slovenia. Hard to pronounce (lyoob-lyee-ANNA), but easy to like. You can fly from several European cities, using several major carriers including Lufthansa, Air France, and the national carrier, Adria. The airport is about 18 miles outside the city. Arranging a transfer is a much better option than hiring a taxi. It's a pedestrian friendly city, in fact; the European Commission named Ljubljana 'the Green Capital of Europe" for 2016. No cars are allowed in the inner city which makes it even easier for tourists and residents to move around. The city is bisected by the appropriately named Ljubljana River, and with several historic bridges spanning it, crossing from one side to the other is a breeze. Along both sides of the river, you'll find cafes. restaurants, shops, as well as many baroque, art deco and nouveau buildings.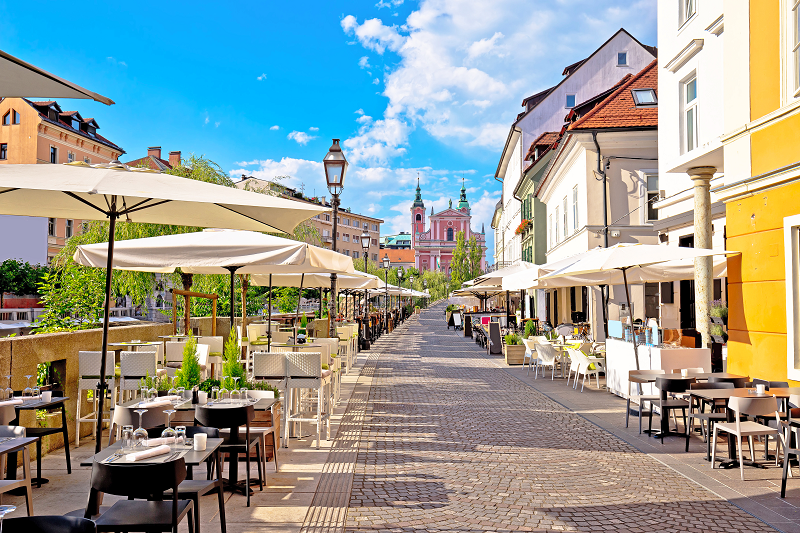 If you have 4-5 days, I would spend 2 of them exploring this city, and make some day excursions to Lake Bled and the Adriatic coast.

Bled: A must stop, especially for outdoor enthusiast, and less than an hour north of the capital. It has hosted European royalties over the last 200 years with its' thermal pools and Lake Bleds' picture postcard scenery. Some of the activities offered our hiking, ballooning, rafting, biking, and all kinds of water activities. The water is crystal clear and actually warm, so perfect for swimming in the high season.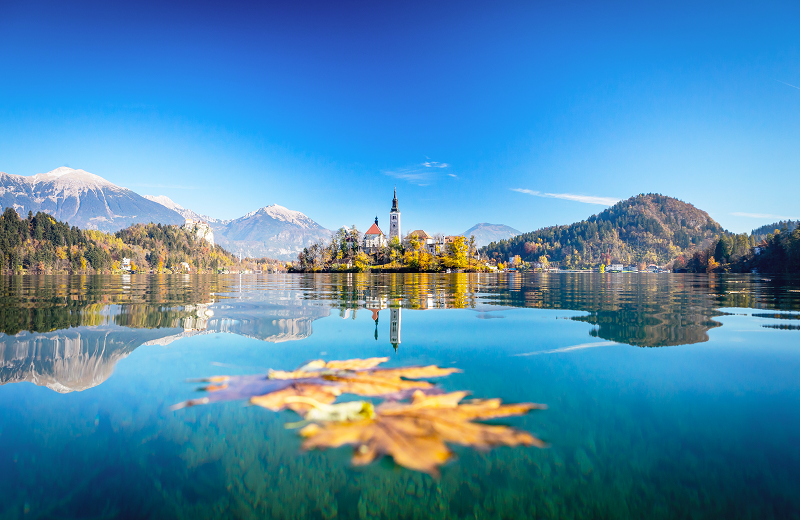 You know us Americans...we love castles, and this one does not disappoint. It goes back to the 11th century and the museum itself is worth the price of admission. We walked up..takes about 15 minutes. Just look for the sign "Grad" which means castle. If that is too challenging, there are taxis. The Castle Restaurant is top quality and worth it if you have time.
Tip: We learned afterwards if you make reservations for lunch or dinner, admission to the castle is free.

Slovenian coast: Okay, it's not large: only 47 kilometers, but only 1 hours from Ljublijana. Besides offering the aforementioned town of Piran, a short drive away is Portoroz. It's more "Coney Island" family friendly (pre-teens) with a huge beach, and an almost carnival like atmosphere. Koper is a favorite cruise stop. We hopped off the ship early that morning, and covered the town in about 2 hours. I can't say it was the highlight of our trip. So we hopped on a bus and headed to seaside town of Izola. Less touristy and smaller than Koper, we stopped for lunch, then talked the proprietor into selling us a couple of bottles of an excellent Slovenian red wine to take back to the ship.