Explore the UK's Winter Gardens
One of the United Kingdom's many draws is their lush landscapes and flourishing gardens – from bountiful orchards and curated flower gardens to pristine walled castle grounds. The UK has an impressive collection of specialized winter gardens, not only flaunting beautiful colors and special light shows in the winter months, but offering discounts – and sometimes even free entry! – during the winter. Here are some of our picks to add to your list this upcoming season!

The beautiful botanical Kew Gardens, located in southwest London, is not only known as the largest and one of the most diverse gardens of the world, but it is listed as a UNESCO World Heritage Site due to its cultural and horticultural significance. This property contains an arboretum that's enjoyably evergreen all year, and hosts plentiful winter offerings including the annual Christmas at Kew festive light show, and a renowned Orchid Festival in February, boasting creative displays of orchid plants from around the world. If you head southwest toward Cornwall, you will become entwined in mystery at the Lost Gardens of Heligan, a Victorian-era estate that was hidden under overgrowth for decades, then slowly rebuilt into an orchard, jungle forest, and leisure area. In the winter, they unveil a magical Night Garden full of lights, lanterns, and merriment. Just 10 miles north, you can find the awe-striking ecosystems of the Eden Project, contained in a collection of impressive biomes that can be explored all year long!
A trip to the UK would not be complete without a visit to the stunning gardens of the Royal Horticultural Society. The RHS charity owns five impressive gardens across England as well as organizes events, promotes horticultural science, and provides community education. The sprawling 65 acres of the RHS Garden Rosemoor, tucked away in the Torridge Valley of England's Devon region, flaunts its beauty all year long, but especially becomes a seasonal favorite as the autumn fades into winter and the foliage changes color. A contrast against the dimmed skies, the dogwoods and willows pop with deep burgundy and the winter blooms start to show. The property includes bountiful orchards, hearty vegetable gardens, exotic foliage, lush woodlands, a children's play area, and a designated Winter Garden.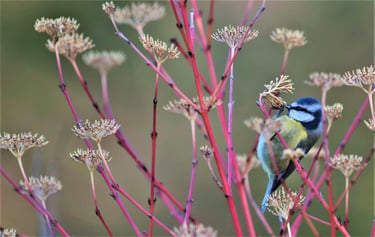 The RHS Garden Wisley in eastern England's Surrey county, boasts dozens of gardens within gardens, including a fragrant Winter Walk, where visitors can breathe in the aromatic blooms of evergreen sweetbox shrubs, winter-blooming honeysuckle, and yellow wintersweet bushes. The RHS Garden Harlow-Carr offers a breathtaking winter wonderland as well - whether you are meandering past the snow-covered lily pond, or warming up with a hot beverage at Betty's Tea Room. Like all of the RHS gardens, this property also transforms into a winter light spectacle – delightfully name GLOW – a family favorite during the holiday season.

RHS Garden Winter Glow Events, 2022:


Rosemoor - Devon
November 17th - December 30th, 2022
Wisley - Surrey
November 17th - January 8th, 2022
Harlow-Carr - North Yorkshire
November 17th - December 30th, 2022
Hyde Hall - Essex
November 22nd - December 30th, 2022
Bridgewater - Greater Manchester
November 16th - December 30th, 2022
If you venture westward to Wales, you should make it a point to visit the impressive Bodnant Gardens, a previous estate that was developed over five family generations! You will be enveloped in 250 years of history as you wander underneath the arch of twisted trunks, cross the vast meadows, and pass by the plethora of winter blossoms of its Winter Garden Trail. While in Wales, explore the Magical Illuminated Light Trail of the National Botanic Garden of Wales, the most visited garden in the country! You can check what's blooming in winter months – and be sure to shop at the Edwardian-style Apothecary which is impressively stocked with plant-based tinctures!
And for those headed northbound to Scotland – a country that provides breathtaking and mystical landscapes all winter long! – make sure to visit the Royal Botanical Gardens of Edinburgh, not only the largest and most stunning garden of Scotland, but also a significant center for conservation and educational programmes. This garden is perfect for all seasons – and don't miss their Christmas display in winter!

To check out more information about visiting the United Kingdom in winter months, check out our Go365 e-Brochure!