Springtime in Spain: 5 Colorful Festivals That Cure Wintertime Blues
It's easy to find reasons to visit Spain – not only is it one of the sunniest destinations of Europe, but it is home to a plethora of intriguing traditions and spirited celebrations, from colorful flamenco dance and elaborate bull fighting festivals, to the tradition of throwing hundreds of onions onto an open fire – making it one the most exciting places to delve into! As we ease out of summer months, our minds are set toward our favorite winter and springtime festivals, providing an opportunity to kick our winter blues to the curb this year and live it up in one of the most vibrant places of the world!
Las Fallas (Valencia)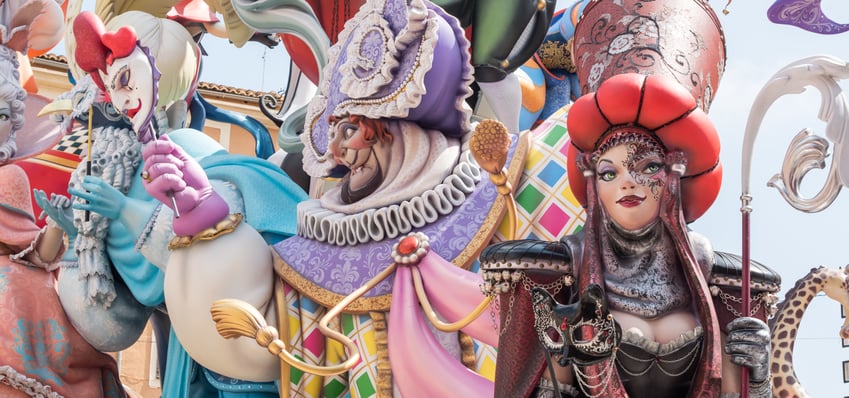 The animated celebration of Las Fallas is one of our favorite Spanish springtime traditions. On the days leading up to the spring equinox, the historic coastal city of Valencia comes alive with festivities, the streets adorned with colorful décor and displays of daily firecracker barrages called mascletàs. Large satirical caricatures appear waiting to be set aflame on St. Joseph's Day, March 19th. This tradition originated in medieval times when carpenters would prepare for spring by burning away wooden parots that held up lamps during winter months – setting them aflame as they were no longer needed heading into the lighter days of spring and summer. Now a humorous and whimsical celebration, Las Fallas involves the artistic creation and construction of impressively towering ninots that are lit on fire during the final day of festivities. These events attract more than a million visitors, making Valencia a wonderfully exciting place to visit from March 1st-19th!
Tamborrada (San Sebastian)



The beautiful coastal city and foodie favorite, San Sebastian, is known for its elegant resorts, popular beaches, exquisite cuisine, and every year in January, its Tamborrada festival. Tens of thousand of people gather to watch a 24-hour-long procession of costumed drummers as they parade through the streets. The festival has tight connections to the city's gastronomic excellence – top chefs commence the activities with an announcement, and often comprise the groups of drummers. This 200-year-old tradition started as a symbol of defiance during the French occupation, when local women would mock Napoleon's troops by tapping on water jugs, mimicking the soldiers who paraded through town with military drums. This became so well known that it developed into a local tradition, eventually transforming into an annual festival that takes place on January 20th, St. Sebastian Day – the city's namesake christened after the patron saint of soldiers and protector against plagues. Not only is one of the most unique traditions of Spain, but it takes place in one of its most captivating coastal cities.
Le Feria de Abril (Seville)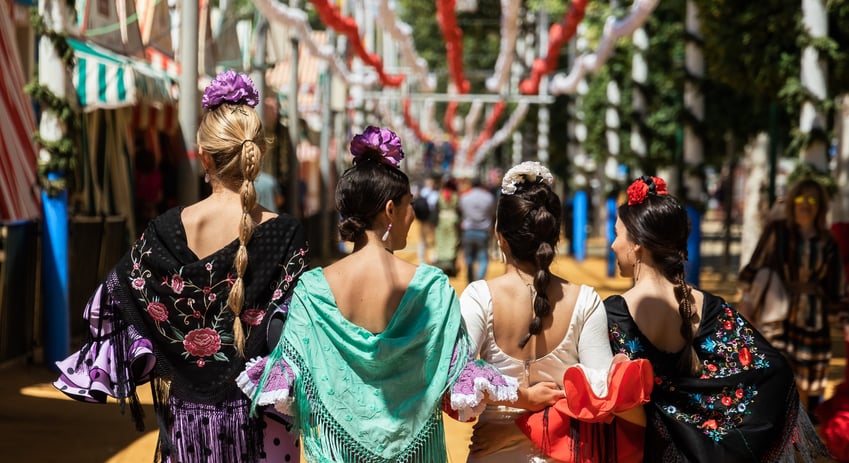 Following Easter Sunday, Spain's southern city of Seville transforms into a bright and wonderful spectacle full of colorful lanterns, where over a million people gather to watch daily parades, marvel at bull fights and flamenco performances, and assemble under marquee tents to dance, drink, and eat tapas from the evening into the early morning. The main festivities take place at the city's fairgrounds, which boast all the popular draws of a state fair, such as roller coasters, carnival games, and food booths. This exciting Feria de Abril takes place two weeks after Easter Sunday – which for 2023 will be April 23rd-29th. These celebrations started in the late 1800s as a livestock fair, where horses and cattle would be paraded around with the intent to be sold or traded, eventually becoming more elaborate and festive, evolving into the world-famous extravaganza that it is today!
Semana Santa (Multiple Locations)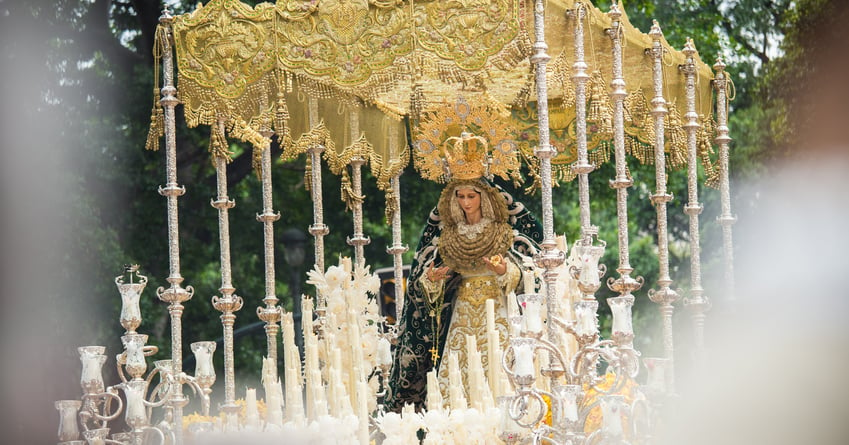 Semana Santa – the catholic celebration that honors the Passion of the Christ from Palm Sunday through Easter Sunday – is one of Spain's most widespread and holiest celebrations. Throughout various regions of Spain, Catholic brotherhoods perform penance and organize special festivities to honor the arrival of Easter – most notably in Andalusia and other religious southern provinces, where some of the oldest and most traditioned processions take place during this Holy Week. Lively celebrations can be found in Seville, while more solemn and stoic processions in Leon, and the most expansive takes place in Toledo where festivities start a week before Palm Sunday. Spain's capital of Madrid is a perfect place to watch the processions from towering balconies that overlook capital city squares. For 2023, Semana Santa will be taking place from April 2nd-8th – a beautiful time of year in Spain, making for a perfect Easter getaway.
Gran Festa de la Calçotada (Valls)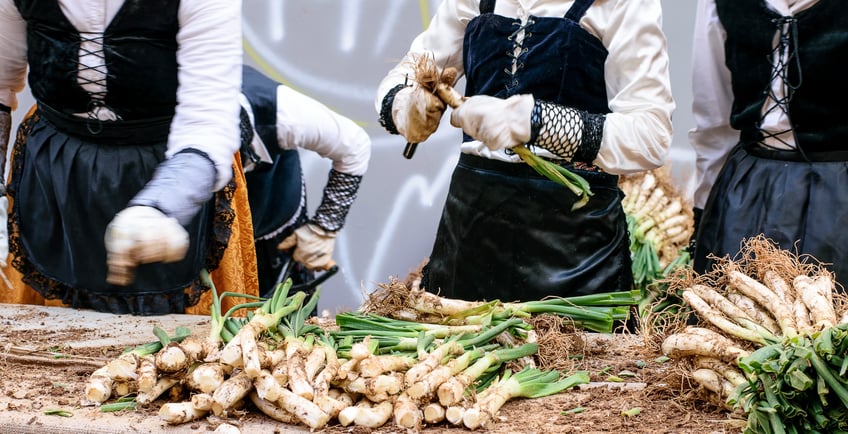 Something as obscure and stinky as the onion is likely not the first thing that you associate with a vibrant street festival, but Spain has a deep adoration for the region's plentiful winter onion, the calçot – so much adoration, in fact, that one of their most exciting festivals takes place in honor of this long green stem! On the last Sunday of January, the streets and squares of Valls, Spain – located just outside of Barcelona – transform into a spectacle of lively parades, specialty food booths, and of course, calçot roasting demonstrations and competitions. After roasting, the calçot onions are unveiled and eaten with rich romesco sauce – a delicious delight! The Gran Festa de la Calçotada attracts tens of thousands of visitors every January, and is something that should be added to your bucket list for wintertime travel!
Want more inspiration for delving into festivities in Spain and beyond? Check out our Go365 e-Brochure for insights on festivals and celebrations across Europe this upcoming fall, winter, and spring!