Lovely Libations for Your Summer Vacation
While traveling the world creates opportunity for epic adventures, sometimes the simple moments are the most memorable – sitting beachside with an icy cocktail, raising a toast with your travel buddies at the local pub, or chatting to a family of vineyard owners over a bottle of Champagne. Especially when it comes to the heat of summer, each refreshing sip is worth savoring! Gear up to go abroad for the ultimate summer vacation – or perhaps you're already lounging beachside as you read this article! – with this list of cooling must-drink beverages from around the globe.
With Spirits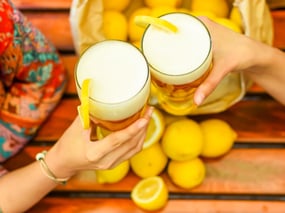 Radler. Beer is the most commonly consumed alcoholic drink in the world, and we have to say – there's nothing quite like cracking open an ice-cold one on a hot day. What better place to pour a pint than in Germany – not only home to the world's largest and most famed beer festival, but also the center of many creative 'beer cocktails.' Germans have been known to mix their brews with a variety of juices or sodas – whether a Colabier (lager + Coca-Cola) or even a Bananenweizen (Hefeweizen + banana juice), these blends are a refreshing treat in summer months. Our number one pick has to be the beloved Radler, a blend of beer and lemon soda! Give it a go!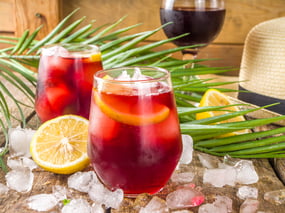 Tinto de Verano. You can't go wrong with a beverage called the 'red wine of summer'! Similar to the concept of mixing beer with soda to make a German Radler, Spain's beloved beverage, tinto de verano, is created by blending table wine with gaseosa, a sweet sparkling lemonade. Some may compare this to sangria – but without the fruit, this version is lighter in flavor and far less complex to create. We recommend this delightful concoction for wine lovers who want something a bit sweeter and fruitier to enjoy while being embraced by the intensity of summertime heat!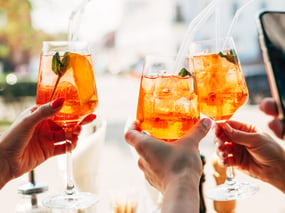 Aperol Spritz. Another delightful wine-based cocktail, the Aperol Spritz boasts beautifully bittersweet flavors of prosecco, soda water, and, as the name implies, the zesty goodness of Italian bitters, Aperol. Gaining international popularity due to its vibrant orange color and highly Instagram-able appearance, this spritzy drink ranked in the top 10 of the World's Best-Selling Cocktails last year, according to Drinks International. While the locals of Italy commonly delight in this beverage as an aperitif before a meal, a hot summer's day is a great excuse to sip on this refreshing libation no matter the occasion.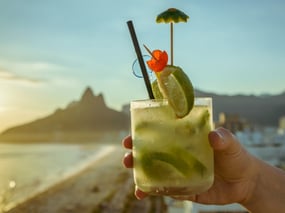 Caipirinha. If you've been to Brazil, you'll know all about Caipirinha, the sweet-and-sour cocktail chosen as the country's official national drink. This one is a bit harder to replicate at home unless you get your hands on a bottle of authentic cachaça – a Brazilian liquor which some people compare to rum, but is fermented from fresh-pressed sugarcane rather than molasses. This spirit, mixed with lime juice and sweetener, is an exquisite refreshment for anytime of year, but it especially hits the spot during South America's blazing summer months. You can also forget the frills and enjoy high-quality cachaça directly on the rocks!
Non-Alcoholic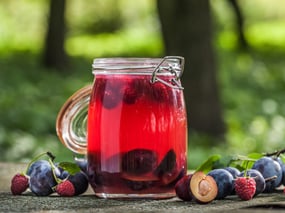 Kompot. When in Poland, you can't go wrong with the selections of crafted vodkas, wines, and beers – but the popular non-alcoholic household beverage, kompot, is at the top of our list when it comes to summertime sips. Though resembling the word 'compote,' this treat is not a textured, syrupy spread, but rather, a drink created by stewing fruits and spices. This beverage is enjoyed by locals all year long – in the winter, it's prepared with dried fruits and herbs and served warm, while in the summertime it's enjoyed chilled, more like an iced tea. Kompot is easy to make at home - give it a try this season!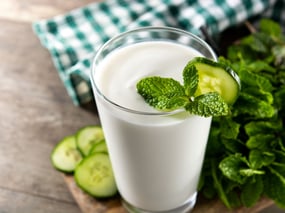 Laban. A dairy beverage with a consistency somewhere between that of yogurt and milk, laban is a popular choice across the Middle East. With proven cooling properties, this drink is not only refreshing on a hot day, but is packed with vitamins, calcium, and proteins, giving drinkers an extra boost of nutrients. Served in various forms – whether plain or with an added kick of sweetness, fruit flavors, mint, or salt – the diversity of laban is sure to satisfy any type of taste bud. This delicious creamy substance is popular to prepare at home, and can easily be found for purchase from cafés, street vendors, and grocery stores.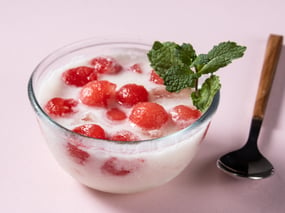 Subak Hwachae. Though it's often consumed with a spoon and it resembles a dessert dish, hwachae is also technically a drinkable fruit punch. The most popular flavor of this South Korean treat is watermelon, or subak. This favorite summertime substance is easy to make at home and is also popularly served at cafés throughout the season. Sweet soda water, milk, and honey are poured over a bowl of balled watermelon and sometimes other fruits, served with ice. The combination of fresh melon, sweet cream, and cool, crunchy cubes is the perfect concoction after a long day in the sun!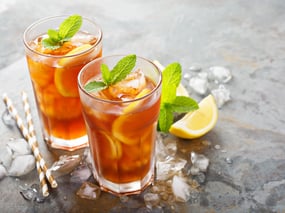 Trà đá. Tea enthusiasts are sure to delight in a vacation to Vietnam, where freshly brewed iced green tea, locally known as trà đá, is served as a complimentary beverage almost everywhere you go. While travelers and expats immediately take notice of this drink served from leaf-filled pitchers that adorn restaurants, streetside stands, and even events, these ever-present jugs quickly blend into the normalcy of life. Especially during the peak of a highly humid summer, locals and visitors alike can expect to take solace in a cold glass of this revitalizing brew.
Thirsty for more? Follow us on Instagram to join the fun of Avanti's 'Thirsty Thursdays' - a weekly posting of drinks from around the world!
Post your favorite summertime beverages in a comment below!