Madeira: Portugal's Best Kept Secret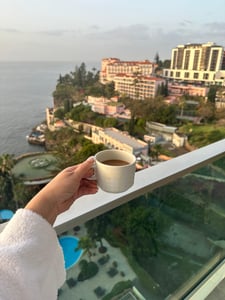 In my role as Director of Marketing, I've been fortunate to have many opportunities to discover new places and make new acquaintances, but in the 20 years that I've been with Avanti, I hadn't really heard of or researched the island of Madeira. As someone who prides themselves on having a pretty good understanding of European history, geography, and cuisine, the prospect of visiting a destination with very little baseline knowledge was wild.

Even for the experienced American traveler, Madeira may still be off the beaten path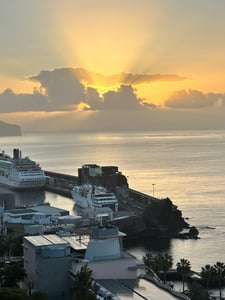 and relatively unknown. While talking to our local guide, I found out that European travelers have been coming to this island escape since the 19th century. Like most people, I had heard of Madeira wine, the island's most famous product, but our guide gave me a bit of trivia that blew me away. Did you know that when the Declaration of Independence was signed in 1776, our founding fathers toasted with a glass of Madeira? She informed us that their most famous export, and perhaps even more beloved, is soccer phenom Cristiano Ronaldo. That's right - the highest goal scorer of all time was born in the capital of Madeira, Funchal, and has a museum, statue, hotel, and airport dedicated to him for his achievements.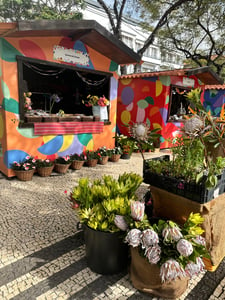 Beyond wine and soccer, why would one want to visit Madeira? What's it like in Madeira? Although Madeira is completely unique, the geography can be compared to some of the romantic destinations in the world such as the Amalfi Coast and the north shore of Kauai. The volcanic island has a tall mountain ridge in the center forming valleys and cliffs, with few flat areas of land or beaches. The soil is very rich, and the variety of flora is amazing with multiple kinds of plants blooming throughout the year.

When I've asked colleagues who have visited mainland Portugal what the food is like, they've all had similar comments – very good and a lot of bacalao (salted cod). With its fertile soil, locals say that you can grow just about anything in Madeira. The range of dishes featuring exceptionally fresh food with locally sourced fruits and vegetables is mouth-watering. Main dishes focus on fish, pork, and beef – no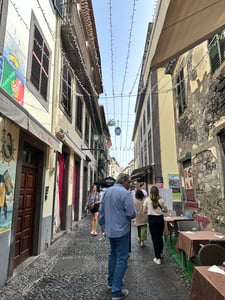 bacalao in sight. The island appears to have a sweet tooth with many options for cakes, cookies, ice creams, and other decadent dessert items on the menu.

Visitors to Madeira can expect wonderful infrastructure. The highway system connects the entire island though a series of modern bridges and tunnels. The historic city center of Funchal has a lovely port, Old Town, and is easy to walk around enjoying the shops featuring local crafts, restaurants, poncha bars, a central market, and a place to taste / buy Madeira wine. Every month, there seems to be something to celebrate in town, but New Year's Eve, Carnival, and the Flower Festival (in April / May) are prime times to experience the Madeiran spirit. In terms of the weather, you can expect some rain in January and February, but it is quite mild year-round. If you are headed toward higher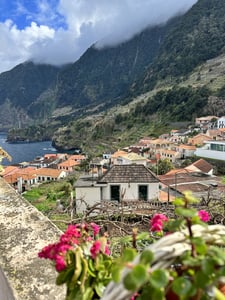 elevations, you will want to dress in layers and have a jacket for when the winds pick up throughout the day.

The island may appear small, but it has so much to see and do, I would recommend staying for at least 5 nights. Utilizing the capital city of Funchal as the base for a hub-and-spoke vacation, you can visit the four different areas of the island. In about an hour, you can access the rugged north shore with lush endemic plants, vineyards, and waterfalls. Although Madeira Wine is established, table wines are starting to be produced and showcased such as the Quinta do Barbusano winery in picturesque Sao Vicente. Travel less than an hour east for mountain peaks and views of the nearby uninhabited islands. The south coast is sunny and full of terraced banana farms. The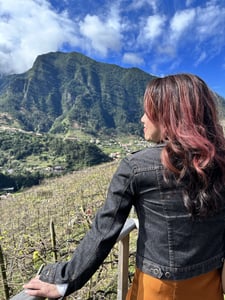 west is wild with stunning saltwater pools inviting you to jump in.

Some of the villages near Funchal are very charming such as Câmara de Lobos. The small, picturesque fishing village is home to poncha, a local beverage that combines a high-proof liquor, fruit juice, and honey. It is served in small glasses and the tasty concoction packs a punch. They say that if you have more than 2 glasses, you'll soon be fluent in Portuguese! The town of Santana is also a popular excursion where the traditional houses have a-frame roofs that are thatched with straw. During the month of December, the village is decorated with lights and there is a Christmas market full of local goods.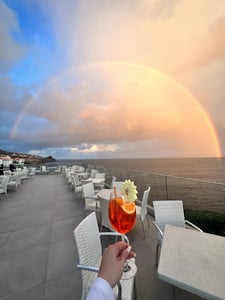 Getting to Madeira has gotten very easy these days. Sata Azores Airlines offers non-stop service to Funchal from JFK. Or for travelers looking to combine Madeira with other destinations, they can take advantage of the free stop-over program in the Azores to experience multiple islands. From either Sao Miguel or Terceira islands, you can create longer European itineraries by combining a number of other European destinations, including mainland Portugal, Germany, or England.

If you're interested in learning more about the variety of hotels, activities, and sights of the island, check out our webinar recording or take a look at our ebrochure which contains our top picks for Madeira. For more personal insights about the destination, I'd recommend you read this article from TravelAge West.
Colleagues and friends often ask me about my travels, looking for recommendations for their future trips and places to add to their bucket lists. It only took a few days here to convince me that not only should Madeira be on your vacation list, but it deserves to be the very top spot!